Recruitment
Careful and efficient selection, high engagement
Recruitment and deployment is a key element in our services. It is our absolute conviction that getting - and keeping - "the right people in the right place" creates the difference. This applies equally to both the perspective of the customer as well as the employee. That is why we spend a lot of care to an accurate organization- and job profile and why we take great care in the profile and ambition of the candidate.
Our recruitment process: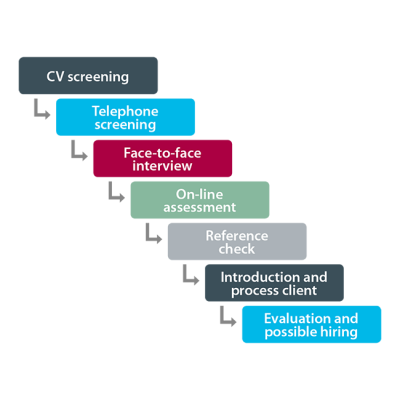 InnSense works with recruitment consultants who know the market, its dynamic and its positions. Our personal care, combined with a thorough knowledge of the market, ensures that we can make the right match.
The right people in the right place
Within InnSense we spend a lot of personal care to your personality and ambition to secure a long term fit and advancement in your career; the "right match".
"Success in business is all about people, people, people"
Richard Branson - British entrepreneur (founder Virgin Group) 1950-
InnSense uses cookies to remember certain preferences and align jobs interests.